You've scored their number. You've made the plans. And now? It's time to dress to impress for your night out! But with all the pre-date jitters, are you running out of ideas for the best date night outfits? 
When planning your outfit, you'll want to consider a few things. First up is the occasion. Is it a formal night out and you'll need to dress to the nines? Or is it a more casual date where you can look fantastic but don't need anything too fancy? 
The best news? We're breaking it all down for you in this post!
Date Night Outfits for Your Body Type
Probably the most important part of choosing the perfect date night outfit is finding something you feel confident in. And to do that, you need to consider your own body type. So wearing anything that's going to make you second guess yourself is out the window! 
Women's Body Types
No matter what's trendy, the most important thing you need to keep in mind when finding your date night outfit is what accentuates your features. When you do that, you'll look and feel confident about the entire thing! 
Pear
If your hips are wider than your shoulders, your body is likely pear-shaped. Your silhouette is naturally flirty and feminine, so feel free to dress that way on your date night! The best tops for your shape? Peplum, square-neck, cowl neck, and boat neck blouses all look fantastic. Choose either high-waisted or slim-straight trousers or jeans. A-line, fit and flare, off the shoulder, and wrap dresses will look amazing. 
Hourglass
Are your shoulders and hips equal in width? Do you have a defined waist? If that's the case, your body is shaped like an hourglass. Fitted and structured tops look amazing on your frame. Find wrap, keyhole, or peplum blouses to accentuate your shape. Choose trousers or jeans that accentuate your defined waist like belted, flowy, or high-waisted pants. And for dresses, look for wrap dresses, fit and flare, or sheath dresses. Or a jumpsuit would look incredible! 
Apple
If you're an apple shape, then your shoulders, bust, waist, and hips are all fairly uniform in size. Your shoulders may be narrower, though! Find pieces that accentuate your shoulders, neckline, or bust. For tops, go for wraps, dolman sleeves, v-necks, or peplum. With your pants, focus on elongating your legs by choosing belted, bootcut, or high-waisted trousers. And create a more defined waistline with your dresses. Find empire-waisted, off-the-shoulder, or wrap dresses.
Lean and Linear
Lean and linear, also called rectangle or athletic build, means your shoulders, hips, and bust are uniform in size. Your waist is straighter rather than curvy. You can decide what features you want to accentuate! If you want the appearance of curves, choose tops that define your waist and compliment your top half. Find scoop neck, v-neck, sweetheart necklines, or detailed collar tops. Pull off statement styles with pleated, printed, flared, or straight-leg trousers/jeans. 
Men's Body Types
Just like for women, men's body types play a significant role in finding the best date night outfits. You want something that compliments your build and frame! 
Triangle
If you're a triangle shape, then your shoulders are narrower compared to your waist and hips. You'll want to emphasize your upper body and broaden your shoulders. To do that, find jackets with shoulder padding and narrow athletic cuts in your shirts. And a slight flare in your trousers or jeans will balance out your lower half. 
Inverted Triangle
Are your chest and shoulders well developed, while your waist and hips are narrower? If that's the case, you're more than likely an inverted triangle shape. Find slim fit shirts to accentuate your upper half and straight-legged trousers or jeans. You can definitely get away with bolder colours and patterns in your jeans and pants, too! 
Rectangle
A rectangle build means your shoulders and hips are relatively uniform in size. If that describes you, then you'll want to add shape to your upper half by adding layers like cardigans or jumpers. Jackets and blazers that have shoulder pads also help to accentuate your shoulders. And dark coloured trousers or jeans will slim your waist and thighs to help add shape to your torso. 
Trapezoid
With a trapezoid body frame, you have a well-developed chest that tapers into a slightly narrower waist and hips. Jackets and blazers accentuate your waist, making your stomach appear slimmer and your shoulders broader. Wear dark-coloured trousers and jeans with light coloured shirts. This will help your body give an overall proportionate look! 
Date Night Outfits for Women
Whether it's your first date night out, or your 15th, coming up with something to wear can give you the jitters. You want to look your best! And sometimes, the ideas just don't readily come to you. We've rounded up quite a few date night outfit ideas for you for any occasion! 
Casual Date Night Outfits for Women
A casual date night outfit means you can look a little more relaxed than getting dressed up for a formal affair. You can be a little more lenient with your outfit look. 
Usually, jeans and a cute top does the trick for these date nights. You can even pair a dress with trainers for the effortless beauty look! 
Style denim with a statement piece, like a flowy dress, will create a stylish yet still relaxed look. In the winter, go for darker denim. While in the spring and summer, you can opt for lighter denim. 
First Date Outfits for Women
On your first date, you'll want to dress to impress! Choose pieces that help you come across as stylish and elegant. 
Think about highlighting your best features using our guide above. If you're opting for a cute or sexy look, find fitted pieces. Although be wary of clothes that are too tight or revealing. 
For a more casual first date night outfit, pair nice skinny jeans with a stylish blouse and a jacket. You can also go for a jumpsuit or long, flowing dress with heels. 
Ultimately, you want to create an outfit that makes you feel comfortable and confident throughout your entire date. 
Movie Date Outfits for Women
A movie date outfit is all about staying comfortable while still looking trendy and stylish. Remember, you're still on a date, so don't dress down too much. We definitely don't recommend wearing sweats. 
A comfortable pair of boyfriend jeans with a loose t-shirt and cosy knit cardigan? That's the perfect movie date outfit. 
If you'd rather have something that feels more comfortable while you move, pair a flowy dress with a graphic tee over top. Knot your tee at the waist, and you'll create a stylishly chic (and totally comfortable) cinema date outfit! 
Dinner Date Outfits for Women
Before you choose your outfit for a dinner date, be sure to figure out what restaurant you'll be going to. The atmosphere of the restaurant is important here! If it's romantic and fancy, you'll end up with a different outfit than if it's casual and easy-going. 
For dinner date night outfits, you can't go wrong with a beautiful dress that highlights your best features. For a chic and stylish outfit, choose a modest bodycon dress. Add statement accessories to bring your entire ensemble together. 
To keep things graceful and elegant, find dresses that are form-fitting but that aren't too tight. Don't go too short on these dresses, either. Keep the length right at or below your knees to pull off the classic look. 
Walk in the Park Date Outfits for Women
If you and your date have decided on a walk in the park, then staying comfortable is key here. 
This may largely depend on the season you're in, too. In the warmer months, opt for light layers so you can stay cool. If it's colder, don't forget to bundle up with a coat so you're not shivering the entire time. 
Pair simple denim jeans with a casual, fitted top for a comfortable look. Add a cardigan or a jacket over the top to bring more visual interest to your date outfit. 
Most importantly, wear comfortable shoes that you don't mind walking in. This is a good time to skip out on the heels!
Coffee Date Outfits for Women
For a coffee date outfit, you can usually keep it casual. Jeans and a cute graphic tee with a jacket is a perfect option, no matter what season. In the colder months, pair a chunky knit jumper with high waisted jeans and booties. And for the warmer months, you can't go wrong with a summer dress. 
Casual Date Night Outfits for Men
Dressing to impress doesn't have to solely be on women. Men should look their best for any type of date night, too! We've rounded up the best date night outfit ideas for any occasion. 
Casual Date Night Outfits for Men 
For a casual date night outfit, you still want to look your best for your date. So no sweats for this affair! Find a pair of good-fitting dark wash denim jeans. And opt for a slim-fit jumper or a long sleeve henley shirt. Boots work better than sneakers for these date nights because it shows you've put a little bit more effort into your appearance. Add a jacket if it's chilly outside! 
First Date Outfits for Men
A first date is a great time to wear an outfit that's somewhere between casual and formal. You can dress up your normal, everyday wear for this date night! 
Choose a pair of straight-leg chinos and a plaid Oxford shirt. Tuck it in and add a belt. To really polish it off, add a jumper overtop. This will give you an even more sophisticated look! Find some great boots to finish it off. And, of course, add a statement coat (like a trench or peacoat) if you're heading out in the colder months. 
Movie Date Outfits for Men
A cinema date is the perfect time to wear a more relaxed date night outfit. A pair of jeans in a dark wash are always a go-to idea for these kinds of date night outfits. Pair it with a patterned jumper or t-shirt with a jacket to keep you warmer in the cinema. Finish the look off with a pair of trainers! 
Dinner Date Outfits for Men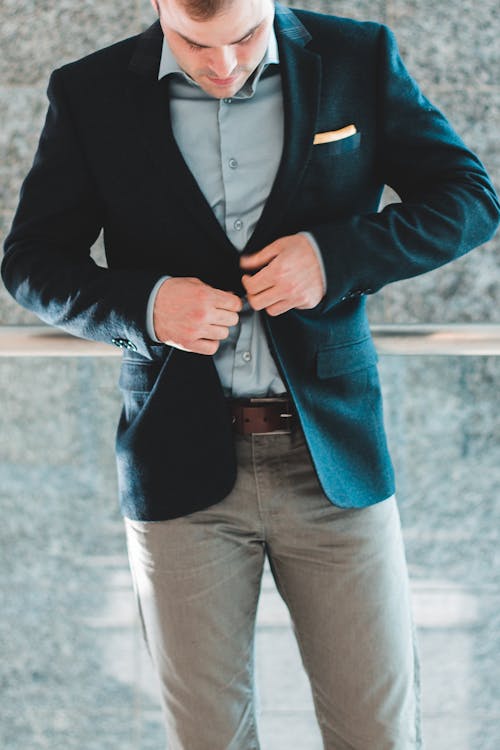 A formal dinner date is a great time to dress to impress your date! 
Get your hands on a tailored sport coat and crisply pressed dress pants. Opt for a solid coloured Oxford shirt. If you want a more eye-catching appearance, try a subtle pattern for your Oxford shirt. Finish off the look with a bold tie! 
Walk in the Park Date Outfits for Men
While we still don't recommend wearing sweats on a date, this is one occasion when you can dress a bit more casual. You want to stay comfortable with your outfit if your date is a casual stroll through the park. 
Opt for a pair of good fitting denim jeans. Use a lighter denim wash in the warmer months. Go for a darker wash when it's colder outside. 
A good fitting t-shirt in a solid colour like white or black is perfect. Add on a jacket, like a bomber jacket or even a motorcycle jacket to give an effortless, yet stylish look to your appearance. 
Find a good pair of trainers to keep you comfortable the whole time! 
Coffee Date Outfits for Men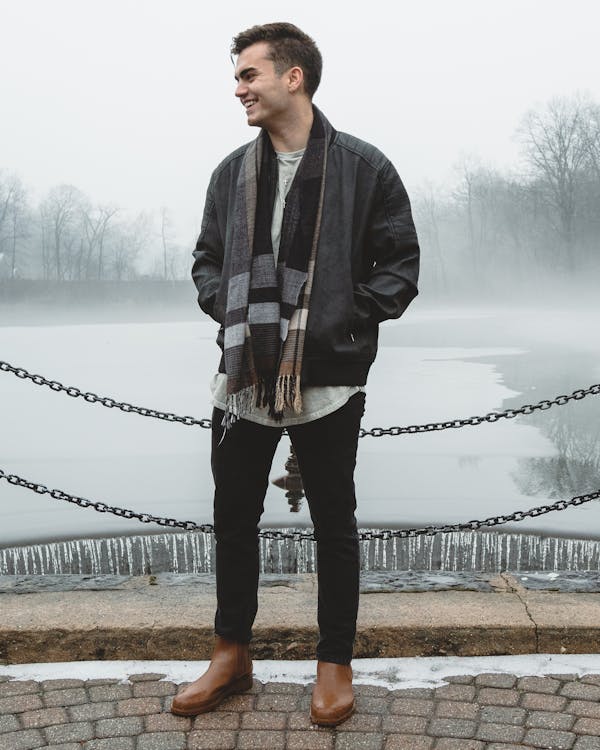 A coffee date is another occasion where you can keep it casual. Pair nice jeans or even some good chinos with a plaid or solid coloured shirt. Tidy up the look by throwing a jumper on top. Keep it more casual with a bomber jacket. Add some footwear, like chukka boots, which are the perfect "in-between" footwear. They're not too casual like trainers, but they're not too formal like suede boots. 
The best date night outfits are ones that are dressed for the occasion and for your confidence. So while you're planning out your outfit, think of whether or not it's for a formal or casual affair. Keep in mind the season and the weather – you don't want to be uncomfortable! And be sure to find something that keeps you feeling confident throughout your date!. 
Ready to shop for your date night outfit? We'll help you get started with outfit ideas for men and women!